We will explore apartment prices in Istanbul and the challenges and opportunities that property seekers may face in this unique city and we will take a look at the different neighborhoods and the factors influencing apartment prices, helping you make an informed decision in your real estate investment in Istanbul.
Advantages of owning apartments in Istanbul
Istanbul offers a wide variety of apartments, from small apartments to luxury units.

Istanbul is considered a meeting point between the European and Asian continents, making it a strategic location for housing and investment.

Owning a property in Turkey opens the door to obtaining a residence visa for investors.

Many residential projects offer facilities such as swimming pools, gyms, and gardens.

The use of advanced technology in construction means smart and thoughtful apartments

Istanbul contains a rich culture and ancient history, which makes living there an enjoyable experience.

Public transportation is available and facilitates movement between areas of the city.

Istanbul is full of upscale shopping centers and traditional markets.

An enriching experience of delicious Turkish cuisine.

The climate in Istanbul is moderate, which makes it suitable for living.

Apartments can be used as a real estate investment by renting them out.

Compared to many international cities, apartments can be found at reasonable prices.

Many residential projects provide an advanced security system.

Sports facilities and leisure centers close at hand.

The presence of high-quality universities and schools in the city.

Istanbul is witnessing rapid urban development.

Beautiful gardens and parks to enjoy the outdoors.

The city is equipped with advanced hospitals and medical clinics.

Lots of events and social events.

There are no major complications for foreigners to own real estate in Turkey .

Multiple investment opportunities in the real estate market.

An advanced transportation network makes transportation easy.

Istanbul includes many luxury projects.

The opportunity to obtain Turkish citizenship, a

Turkish passport,

and

real estate residency in Turkey 
What are the factors affecting apartment prices in Istanbul?
Upscale and premium areas may see higher prices.

Supply and demand play an essential role in determining prices.

New projects and infrastructure developments positively impact prices.

Areas experiencing urban development may see an increase in prices.

The apartments are close to transportation and services.

Higher quality projects may be more expensive.

Safe areas that provide an active social life may see higher prices.

High interest from investors can affect prices.

Changes in government policies may affect the Turkish real estate market.

Fluctuations in currency rates can affect purchasing power.

The inflation rate can affect real estate prices.

Fluctuations in the economy can affect confidence in the market.

Technological developments in real estate play a role.

Changes in real estate regulations and policies.

Government fees and taxes can affect prices.

Political stability gives confidence to investors.

Global developments such as financial crises may affect real estate markets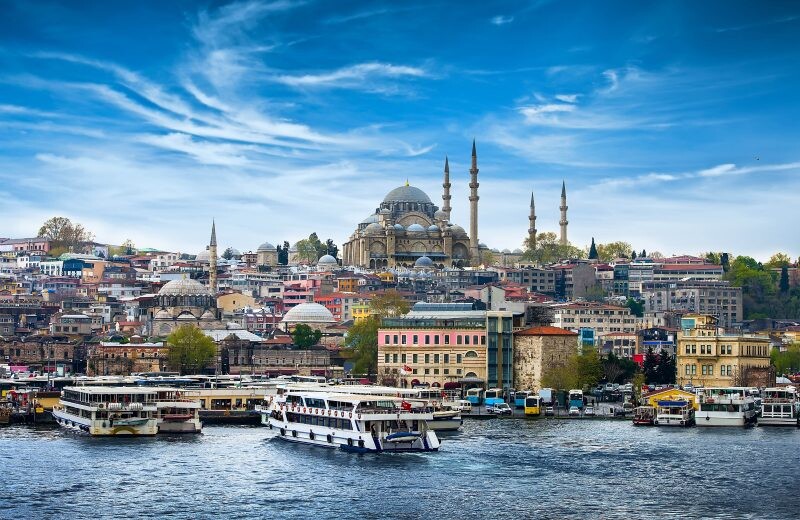 What are experts' expectations about apartment prices in Istanbul?
The demand for real estate in Istanbul is expected to continue due to local and foreign demand.

Some areas may see an increase in prices due to urban development and high demand.

There could be an increasing focus on luxury real estate projects that offer luxury amenities and facilities.

Government policies may play a role in shaping real estate market trends.
An overview of the types of apartments in Istanbul
Studio apartments (one-room apartments): They feature an open design that combines the living area and sleeping area in one room.

Multi-room apartments: vary in number of rooms and bathrooms and are suitable for large families.

Penthouse apartments (duplex): include two or more floors, providing additional space and privacy for residents.

Hotel apartments (service apartments): provide hotel services such as daily cleaning service and 24/7 security system.

Luxury apartments: characterized by high-quality designs and luxury facilities such as spa baths and gyms.

Residential project apartments: located within integrated residential complexes that include facilities such as swimming pools, gardens, and shopping centers.

Investment apartments: Suitable for individuals seeking to invest in real estate, such as apartments located in areas with rapid development.

Furnished apartments: ready to move in with all furniture and fixtures.
The best areas to buy apartments in Istanbul
Beyoğlu is one of the old and lively corners of Istanbul, offering wonderful views of the Bosphorus, in addition to easy access to public transportation and many attractions, as Beyoglu is known for its vibrant nightlife and offers shopping areas and cultural centres, making it an interesting destination for investors.

The Kadikoy area is located on the Asian side of Istanbul and is characterized by its charming charm on the waterfront. It provides a quiet atmosphere away from the hustle and bustle of the city center, and is home to a variety of cafes, galleries, shops and restaurants, making it a great place for investors looking for rental properties or vacation homes.

Sariyer is a promising area on the European side of Istanbul and is popular among foreign investors due to its proximity to natural parks and beaches along the Bosphorus and the area also provides excellent transportation links throughout the city, making it ideal for anyone wanting to reach attractions in Istanbul.

The Levent area is characterized by modern skyscrapers and large business centers, which makes it attractive for those wishing to invest in commercial real estate, as it is located near Taksim Square, one of the most famous tourist destinations in Istanbul.

(Basaksehir and Beylikduzu) are among the most popular areas for real estate investment in Istanbul, as they offer a range of housing options, ranging from modern apartments to luxury villas, in addition to the presence of many amenities such as shopping malls, parks, and restaurants, as Basaksehir and Beylikduzu also have excellent transport links with the rest of the city, making them ideal for travelers with their attractive prices and capital appreciation potential.
In conclusion, apartment prices in Istanbul stand out as a unique and exciting investment opportunity and this wonderful city allows investors to enjoy cultural and economic diversity, and offers a unique blend of urban life and picturesque nature and regardless of your interests as an investor or as a person looking for a home to live in, Istanbul offers multiple and diverse options and from historical neighborhoods to modern areas, from quiet suburbs to the modern center, Istanbul combines luxury and diversity in an incomparable way.
Related articles:
Renewal of real estate residence in Turkey 2023
Cheap villas in Turkey for sale 2023
Buying real estate in Turkey in installments
Endless options within the Turkish real estate market
The fastest way to obtain Turkish citizenship
Apartments for Sale in Istanbul
Successful real estate investment in Turkey 2023
Luxury real estate for sale in Istanbul 2023
Buying real estate in European Istanbul 2023
Obtaining Turkish Citizenship Through Real Estate Investment
Real Estate Investment in Istanbul 2023
Types of Turkish passport and the characteristics of each
Feature of residential apartments in Turkey
Advantages of buying a property in Turkey with Ist Homes
Commercial lands for sale in Istanbul
#Istanbul_apartments   #real_estate_investment
#Turkish_citizenship   #Turkish_real_estate   #Isthomes