Investing in Real Estate in Istanbul is made easier by these internet real estate brokers advertising showy new buildings. But is this the most effective approach?
We will cover why investing in real estate in Turkey  is a good idea? and what to consider.
1. The overall condition of the Istanbul, Turkey, real estate investment market
Following years of price drop due to deleveraging, the Turkish real estate market is now seeing an upsurge as individuals view real estate as the most significant hedge against increasing inflation rates.
This graph does not indicate that prices are also increasing in USD terms.
As a Turkish saver, you would be better off with local, inexpensive real estate in your portfolio than with USD in a bank, particularly with inflation in the United States soaring to 8 percent and above.
The Turkish perspective on inflation has developed. As the USD is becoming a less reliable store of value, it would be more prudent to invest in local real estate and collect rental income.
This market's attraction is enhanced by demographic pressure. Due to favorable national demographics and urbanization, Istanbul's population will increase significantly over the following decades. The World Bank reports that the fertility rate in Turkey is roughly 2.1 children per woman.  
2.   The number one pitfall to avoid when investing in real estate in Istanbul
It is pretty usual for foreigners to be taken advantage of. So you discovered a terrific real estate website. The salesperson speaks flawless English, offers to pick you up at the airport, and sells you several projects with dazzling brochures, rental assurances, and guarantees of high future returns?
3. Invest like a Turk in Istanbul real estate to generate money.
Locals are aware that many of these projects are priced excessively. The fact is that the secondary market provides the finest discounts. You want to acquire a used home in a prosperous area and, if possible, refurbish it to Western standards. This is how you are likely to realize increased returns and financial gains due to the renovations.
There are two possible market strategies.
Bosphorus-facing property estate is available for purchase. Once the economy begins to recover, these flats will be the first to increase in value. However, gross rental returns of roughly 2 to 3 percent could be anticipated.
You invest in up-and-coming places near upscale neighborhoods. In this manner, you get greater rental yields (double), capital appreciation if the neighborhood continues to be gentrified, and general appreciation if the market improves (though less than prime location).
4. Investing on the European side of Istanbul or the Anatolian (Asian) side?
Istanbul is famously divided between the Asian and European halves. However, although both sides are developing, the European side has many main growth drivers.
The brand-new Istanbul airport that opened in 2019 is the world's largest. It is situated in the interior of Europe.
The construction of a new canal will replace the Bosphorus as a shipping route. The outcome is overpopulation and environmental concern. Turkey intends to construct a canal on the European side to decrease danger and boost income.
Why investing in real estate in Turkey makes sense?
After visiting this sunny nation as visitors and appreciating its 'all-inclusive' friendliness, many individuals begin to explore purchasing property there. Many of them seek a seaside apartment or villa where they may spend many brief vacations each year. Some individuals' primary motivation for purchasing a home is a permanent residency and the prospect of acquiring Turkish citizenship in the future. Others see Turkish real estate as a lucrative investment and want to rent or sell their properties to benefit from the price differential.
1-  investing in real estate in Turkey provides a vast selection of real estate options at reasonably affordable pricing
 investing in real estate in Turkey is good as  Turkey provides a vast selection of real estate options at reasonably affordable pricing. Here, one may discover inexpensive studio apartments and magnificent penthouses and villas with sea views. Foreigners are drawn to the significant coastal vacation destinations and Istanbul, the cultural capital, due to the abundance of inexpensive regular and charter flights accessible throughout the year. In addition, the flawless running of the public transportation system makes traveling around the nation a breeze.
2- The favorable visa polic
 investing in real estate in Turkey is good due to e favorable visa policy and simple process for acquiring a resident permit are two of the most evident benefits of buying property in Turkey. Citizens of several nations may go to Turkey for tourist reasons without spending time or money applying for a visa. Moreover, residents may enjoy the nation's pleasant temperature, stunning scenery, and availability of fresh, delectable fruits and vegetables without leaving the country. In addition, property owners may seek Turkish citizenship and become equal citizens of this magnificent nation after just five years.
3-The process of acquiring property and transferring ownership is straightforward
. TAPU, the principal document verifying ownership rights, may be issued in days. The Department of Cadastral Office registers this official document, and the whole process is rigorously regulated. There is a single registry for real estate items, removing any danger for the buyer.
4- The cost of living is relatively affordable
. At the market, fresh fruits and vegetables are pretty inexpensive. Numerous stores sell inexpensive, fashionable, and high-quality clothing and home textiles. Numerous travelers visiting Turkey want to purchase native jewelry, leather, and fur. Most items and services are far less expensive than Europe or the United States.
Consequently, a large number of foreigners find Turkey alluring. This assures a strong demand for rental and purchase, creating a productive environment for investment. As a result, real estate investments account for 12 to 15 percent of overall foreign investment in Turkey.
5- strong liquidity.
Apartments in residential complexes that provide a variety of amenities and are situated in locations with well-developed infrastructure are in high demand for rental throughout the year. investing in real estate in Turkey is good as  They are also desirable for resale. Several real estate companies provide buy choices with previously certain rental income. For instance, if you purchase a reasonably modest flat, you may obtain a rental income of 5,000 to 6,000 euros per year. In addition, the agency will be solely responsible for tenant recruitment and handling any associated concerns.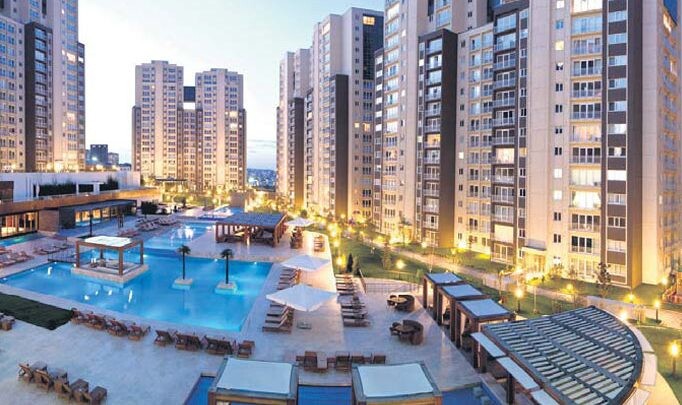 6- Turkey also offers a very dependable market
 investing in real estate in Turkey is gooddue to the favorable market   which is a vital factor. The country's economy is marked by consistent growth, and it is one of the twenty most significant in the world. Likewise, real estate values are rising gradually. Some years ago, those who purchased real estate in Turkey may now sell it at a much greater price. As a result, the country's real estate market continues to expand. In addition, every year, many new structures, including several luxury facilities providing premium services, are constructed in Turkey
7-Turkey is recognized for its welcoming stance toward international investors.
The government is continually focusing on the streamlining of processes and the promotion of an investor-friendly environment. Risks have been eliminated. The foreign investment regime in Turkey is among the most permissive globally. After selling Turkish property, it is simple to transfer funds back home. In addition, it is possible to acquire a house in payments over many years, and foreigners may take out mortgage loans from a Turkish bank.
Moreover, it is pretty advantageous to invest in building projects. Not only can Turkish construction firms complete their projects on time, but they are often ahead of schedule. The mild climate and great demand contribute to the quick completion of projects. Occasionally, Turkish banks provide insurance that ensures a specific payment in the case of a delay. As a result, there is no risk associated with purchasing and selling construction-in-progress real estate, which may be acquired at a substantial discount.