We will explore the world of luxury villas in Turkey and learn about its distinctive places that provide a unique experience for investors and shoppers and we'll take a look at the unique designs and upscale services that make these villas a luxurious haven that combines comfort and elegance.
Advantages of owning luxury villas in Turkey
Luxury villas in Turkey are distinguished by their availability in strategic locations, whether it is on the wonderful seashores or in areas with stunning landscapes.

These villas have unique architectural designs, integrated with Turkish culture and traditions, giving them a unique identity and special appeal.

Luxury villas in Turkey include luxurious gardens and spacious green spaces, creating a peaceful and beautiful environment.

Many of these villas have private swimming pools, providing residents with a unique comfort and relaxation experience.

Luxury villas provide advanced security systems that include surveillance cameras and alarm systems to ensure comprehensive protection.

High-quality building materials and finishes are used, making the villas distinguished by elegance and uniqueness.

It includes smart home systems that allow residents to easily control lighting, heating, and security systems through smartphones.

The villas contain areas designated for entertainment and entertainment, such as gyms and private cinema halls.

The villas come with modern kitchens equipped with the latest appliances and fixtures to meet your luxury cooking needs.

It has central heating and cooling systems to ensure residents' comfort in all seasons.

The villas offer luxurious and spacious bedrooms, with en suite bathrooms featuring modern designs.

Some villas may include hotel services, such as cleaning service and reception service.

They offer spaces for outdoor entertaining, such as large terraces and barbecue areas.

The villas' distribution and design allow for a high level of privacy for residents.

Integrated maintenance services are provided for villas to ensure continuity of comfort and quality.

Villas are designed with large windows to allow natural light in and enjoy wonderful views.

Some villas provide access to integrated service facilities such as schools, hospitals, and commercial centers.

A 24/7 security system is provided to ensure continuous protection of residents.

Many luxury villa projects prefer to use sustainable construction techniques to achieve balance with the environment.

Luxury villas in Turkey are considered a good investment opportunity due to the increasing demand and increasing value of real estate in vital areas.

By purchasing a villa in Turkey, you can obtain

Turkish citizenship

and a

Turkish passport

You can buy a villa worth 200 thousand US dollars and obtain real estate residency in Turkey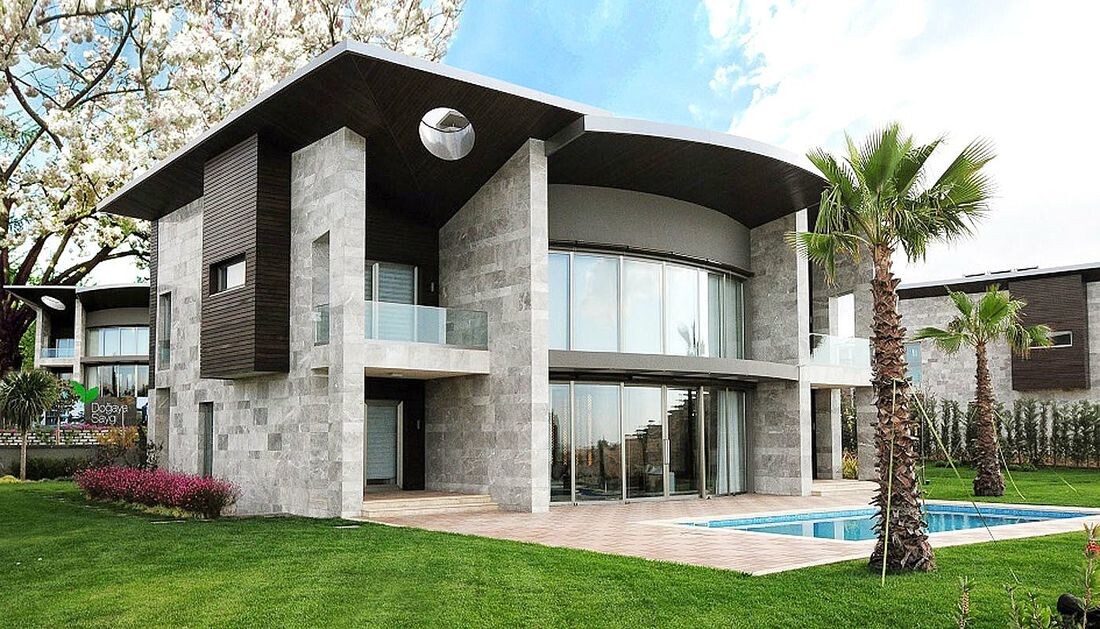 Types of luxury villas in Turkey 
Turkey is characterized by a diversity and abundance of types of luxury villas, as they meet various needs and vary in designs and locations. Here are some types of luxury villas that can be found in Türkiye:
Coastal villas:
It is located on the wonderful seashore, offering wonderful panoramic views and direct access to the beach.
Villas in luxury resorts:
It is located in luxury resorts with five-star facilities and hotel services.
Villas in big cities:
Located in major city centers such as Istanbul and Ankara with easy access to all amenities and services.
Villas in government projects:
It is located in government-owned projects that include distinguished facilities and services.
Mountain villas:
It offers wonderful views of the mountains and is surrounded by stunning nature.
Modern designed villas:
They feature contemporary and elegant designs, while using high-quality building materials.
Historical villas:
Some villas can be found in historic areas that retain a traditional and historical character.
Villas with spacious green spaces:
It contains huge gardens and green spaces that provide a quiet and beautiful environment.
Smart Villas:
Includes smart home technologies, such as smartphone-controlled lighting and heating.
Villas with panoramic views:
Offering wonderful views of the sea or mountain landscape.
Private hotel villas:
It allows residents to benefit from hotel services, such as cleaning and cooking services.
Villas with advanced security systems:
It includes advanced security systems, such as surveillance cameras and alarm systems.
Villas in gated communities:
It is characterized by security and privacy, with security gates and guarding 24/7.
Villas with private pools:
It includes private swimming pools for residents to provide a luxurious relaxation experience.
Sustainable eco-villas:
These villas use sustainable construction techniques to achieve balance with the environment.
Promising areas for finding luxury villas in Turkey
Let's get to know together the most prominent areas for finding luxury villas in Turkey:
Luxury villas in Istanbul:
Istanbul is located at the intersection of continents and forms a bridge between East and West, making it a strategic center for business and travel.

Villas are available in a variety of sizes and designs, meeting different needs of buyers.

Many villas offer stunning sea or city views, giving the place a special charm.

Many projects feature modern and unique architectural designs, inspired by the cultural traditions and rich history of the city.

Istanbul features advanced infrastructure that includes facilities such as schools, hospitals, and public transportation.

Many areas in Istanbul have easy access to public transportation such as the metro, buses, and taxi services.

The city has a range of upscale markets and malls that meet your shopping and entertainment needs.

Istanbul is full of cafes, restaurants, bars and concerts, providing residents with enjoyable cultural and entertainment experiences.

Istanbul is considered a safe area and its economic stability makes it an attractive place for investors.

Buying property in Istanbul in some cases provides an opportunity to obtain Turkish residency or citizenship.
Luxury villas in Ankara:
Ankara enjoys a strategic location with easy access to various regions in Turkey, making it a central base for travel and business.

Ankara has villas available in a variety of sizes and designs, allowing buyers to choose according to their needs.

Ankara has a moderate climate, which makes daily life comfortable and enjoyable with the beautiful weather.

Ankara has a well-developed infrastructure that includes schools, hospitals, and an efficient public transportation network.

Ankara hosts many art galleries and cultural events, providing residents with distinctive cultural experiences.
In conclusion, the charm of luxury villas in Turkey is a symbol of luxury and beauty and these villas combine luxury and comfort, with stunning views and innovative architectural designs, as whether you are looking for a home for permanent living or for investment, Turkey offers a variety of opportunities.
Related articles:
Renewal of real estate residence in Turkey 2023
Cheap villas in Turkey for sale 2023
Buying real estate in Turkey in installments
Endless options within the Turkish real estate market
The fastest way to obtain Turkish citizenship
Apartments for Sale in Istanbul
Successful real estate investment in Turkey 2023
Luxury real estate for sale in Istanbul 2023
Buying real estate in European Istanbul 2023
Obtaining Turkish Citizenship Through Real Estate Investment
Real Estate Investment in Istanbul 2023
Types of Turkish passport and the characteristics of each
Feature of residential apartments in Turkey
Advantages of buying a property in Turkey with Ist Homes
Commercial lands for sale in Istanbul
#Istanbul_apartments   #real_estate_investment
#Turkish_citizenship   #Turkish_real_estate   #Isthomes