Commercial real estate in Turkey is a unique opportunity for real estate investment, especially since it has many and unlimited types. Add to your information that all the ingredients offered by Turkey make you the opportunity to collect a high and rewarding return.
Here are some of the advantages of investing in commercial real estate in Turkey:
- The Turkish economy is growing rapidly, with the GDP growth rate in previous years reaching unprecedented results and outperforming many other countries, making it one of the fastest growing economies in the world.
- The country has a large population (80 million) with a young demographic (average age 30) and this provides a large potential customer base for businesses.
- Turkey is located at the crossroads of Europe and Asia, which makes it a suitable location for companies that want to serve both markets.
- The government supports foreign investment and offers incentives such as tax exemptions, residence permits, Turkish citizenship, and others.
- The cost of living is relatively low compared to other countries in Europe or North America and this makes it an attractive location for companies to be based.
The most important types of commercial real estate in Turkey
As you know, the real estate market in Turkey is highly diversified and caters to different tastes and budgets, as well as in terms of commercial real estate, you will find many options, and below you will see them and aspects of their advantages:
1- Shops
- The country has a very young and energetic population.
- The cost of living and doing business is relatively low.
- There is an increasing demand for Turkish goods and services in the international market.
- The high population density and the huge tourist seasons witnessed by the Turkish state make there a demand for different products and goods, especially since in them you will find the most important and famous international brands.
2 - Offices
The country offers a variety of benefits to those looking to invest in office space, including:
- A thriving economy attracts companies from all over the world.
- Strategic location providing easy access to Europe, Asia and the Middle East.
- Flexible regulations that make it easy to set up and operate a business in Turkey.
- A growing pool of skilled workers who are eager to work for foreign companies.
- Generous tax incentives for companies that invest in office space in Turkey.
3 - Restaurants/cafes
- The Turkish economy is growing rapidly, and the tourism sector is one of the main drivers of this growth.
- The country has a large number of young, urban and affluent people, and they spend more on eating out and traveling.
- There is a great deal of infrastructure already in place to support the tourism seasons, including a large number of hotels and restaurants.
4 - Stores
Turkey is centrally located between Europe and Asia, which makes it an ideal location for companies that need to ship goods to both markets. In addition, its proximity to the Black Sea makes it possible to receive goods from all over the world quickly and easily.
Turkey has a modern infrastructure, which includes a well-developed network of roads, railways, and ports. This makes it easy to move goods to and from your warehouse with the least amount of hassle.
 Turkey has a large pool of skilled workers, which makes it easy to find the right staff for your warehouse needs. In addition, wages are relatively low when compared to other countries in Europe or elsewhere.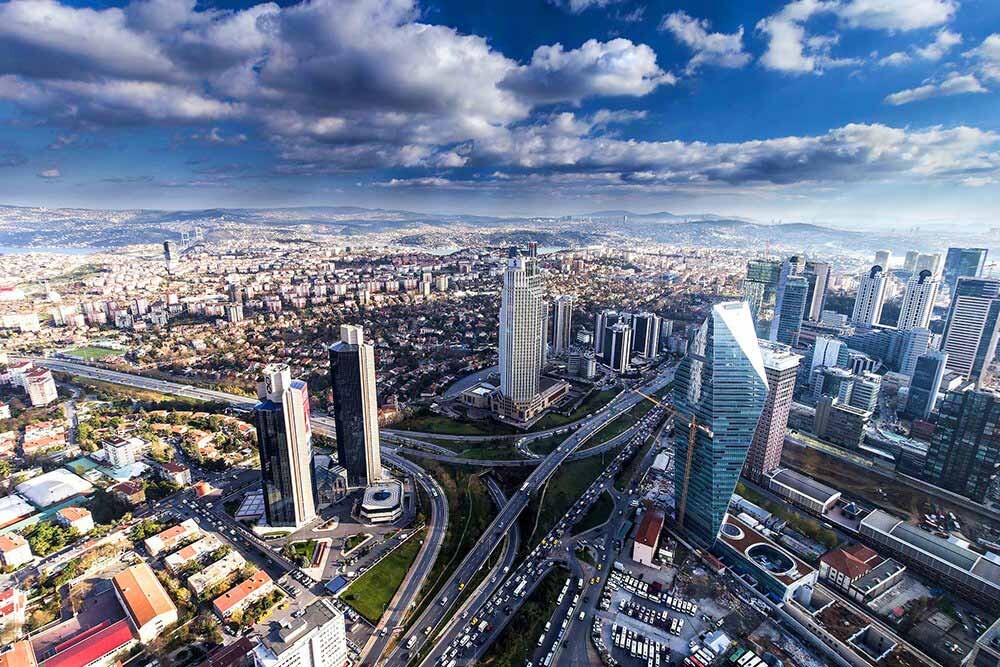 Pay attention to this when buying commercial real estate in Turkey
If you are thinking of buying or investing in commercial real estate in Turkey, here are some tips to keep in mind:
1 - As with any investment, it is important to do your research and understand the risks involved before making any decisions. Make sure you are familiar with the Turkish real estate market and have a clear idea of ​​what you are looking for before making any offers.
2 - Unless you are already a seasoned investor, it is always best to seek the assistance of a professional when making such an important decision, as a qualified real estate agent or attorney can help you navigate the process and protect your interests.
3 - It's easy to get caught up in the excitement of finding the perfect property, but it's important to remember that commercial real estate can be expensive, and make sure you have a realistic budget in mind before you start your search.
4 - When it comes to real estate, location is always important and this is especially true because there are a number of different areas suitable for different types of businesses.
For example, if you are looking to open a hotel or resort, then Istanbul would be a good choice because it is a major tourist destination and if you are looking to open a factory or manufacturing company, then Ankara or Bursa would be better options because they have more industrial areas.
Disadvantages of investing in a commercial property in Turkey
Finally, it is important to point out some of the negative aspects that you may encounter when buying and investing in commercial real estate in Turkey. First, their prices are somewhat higher than others, and therefore this is suitable for wide categories of people and investors. As a result, your property may remain empty for a long period of time. You find it difficult to sell them if you want to do so in the future.
But the good news is that as a commercial real estate investor, you will not have anything to do with the issue of fixing the defect that appears in the property, because the tenant prepares those details in accordance with his work, and you will also not find it difficult to collect rents because their tenants have very good financial conditions.
Your choice of real estate investment in Turkey at the present time, whether through the purchase of commercial real estate or others, is a golden and distinctive idea that gives you a lot of opportunities for profit. In addition to that, you will find that the prices are appropriate and stable, and if you do not have the opportunity to buy by paying cash, you can choose one of the many installment offers provided by the established companies.